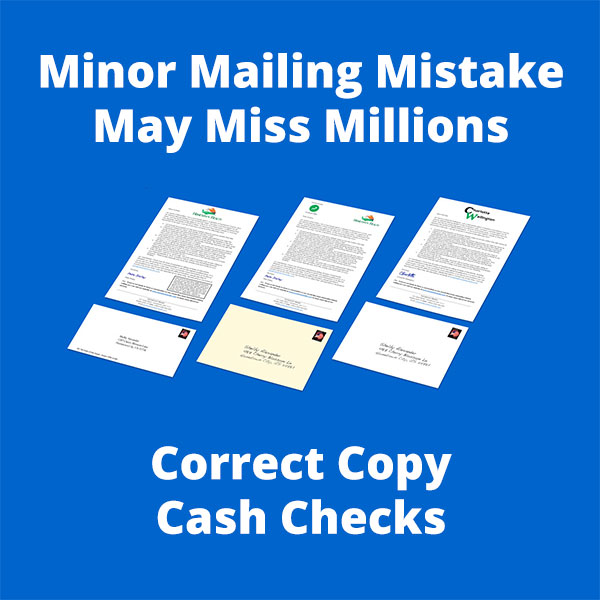 It's always great when I can share a tip from a subscriber … especially when that subscriber is one of our oldest and most successful. I had the pleasure of learning this info yesterday in just such a conversation. I was speaking with this subscriber about a technical question he'd called me about. After answering his technical question, he mentioned that he was really excited to be back on track after changing brokers in the middle of last year. Based on a previous conversation, I knew that he'd been the new office's agent of the month several times already and had enjoyed a couple of million dollar months, so I was curious about what "back on track" meant. His answer was enlightening.
He said that he'd been sending his letters out faithfully, but that he'd noticed they'd not been generating the same results as before. Initially he was concerned that maybe his new broker might have a less favorable reputation than his previous one, but that was before he noticed that several of the other agents in his office were offering homes with "estate sales" and the LIGHT BULB WENT OFF for him. When he'd changed brokers, he'd started adding the new office's phone number to his mailings as well as his direct line. Then, he looked to see who the sellers were on the properties his officemates had listed and indeed, they were ones he'd mailed to.
Initially, he was concerned that he might have been been poached. However, he was pretty comfortable that was not the problem. Then he listened to the receptionist take a few calls and realized that if someone called the office and asked for probate and didn't ask for him specifically, it went to whoever was available. He immediately stopped listing the office number on his letters and now, in the last 30 days, he'd taken one new listing already and had three more immediate listing appointments. I'd say he was definitely back on track!
However, be aware that when YOU are paying for your marketing, you must make sure YOU are reaping ALL THE BENEFITS the benefits. In your letters, whether we do them for you via Mailbox Motivator or you're still doing them yourself, be sure you are driving the traffic to you, not feeding the rest of your office. List ONLY your phone number and it's also one of the reasons we recommend using one of the special probate-focused websites we provide. Control your lead flow and make sure your lead flow funnel points directly and ONLY INTO YOUR BANK ACCOUNT.