Probate Expert
Training Services
INDUSTRY-LEADING EDUCATION,
RESOURCES & PROFESSIONAL COACHING.
All The Leads offers training to help you increase efficiency and profitability regardless of whether you're just getting started or
have an established team/brokerage. Our training programs are designed to inspire you and show you exactly how to
implement our proven strategies and systems, and also how to customize them to fit your business goals.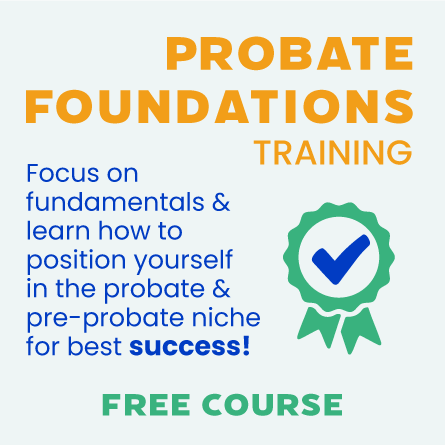 Creating a foundation for success in your Probate and Pre-Probate niche comes down to 3 basic principles!
Create a powerful and compelling Unique Selling Proposition (USP) for use in marketing and prospecting
Build a fully-engaged probate team that properly and effectively supports your business
Create an automated marketing campaign system that attracts and engages motivated leads
This is an on-demand course by Bruce Hill – Industry Leading Real Estate Strategy Coach.
This course is designed to eliminate the noise, keep you focused on the fundamentals, and ensure that you implement the proven strategies that have lead to many Millions of Dollars of business in the Probate market space.
This course is
FREE

so get registered today!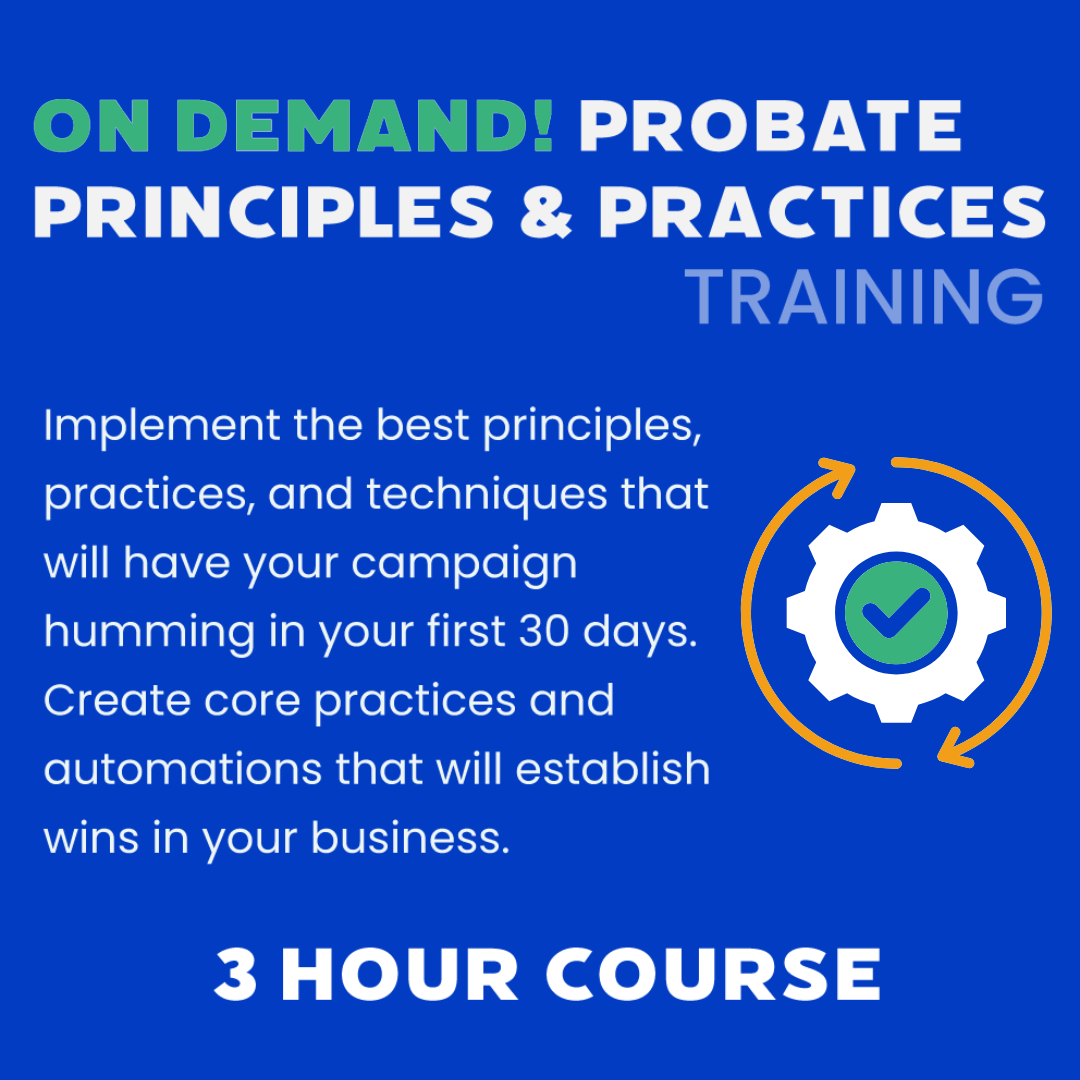 Principles & Practices It is the first Advanced Level course in the Probate Mastery Series & taught by Bruce Hill at Probate Mastery.
This course adds to the foundation you started building with Probate Foundations & prepares you for your first real action steps in the Probate Niche. Implementing the techniques and principles you learn here will have you seeing small wins and taking solid steps to building a real business in the Probate space.
Gain a deeper understanding of the legal elements that go into the Probate Process
Establish and take action steps to set up your business by focusing on the 3 key areas of niche development
Identify & Onboard your first team members that will revolutionize your client offering and service
Dig deeper into your businesses Unique Selling Proposition and take the initial action steps to promote your USP in an irresistible way
Discover how to delicately and impactfully open your phone conversations and deliver your USP in a way that fills your pipeline with Hot Leads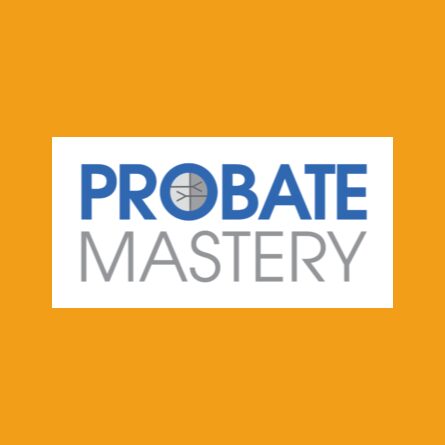 Are you ready to take your
probate skills

to the next level?

With the Probate Mastery Certification Program, you'll learn the probate process from start to finish. You'll discover how to uncover the hottest probate leads, speak to different types of probate prospects, list and invest in probate properties, monetize leads that wish to keep property or don't have any property to sell, and continue to build vendor relationships to offer vertically-integrated solutions and share referrals. More importantly, you'll learn how to build a scalable business in and beyond the probate real estate niche, and take the most important steps towards building wealth and making an impact.

As a part of Mastery, you'll have access to a litany of course, mastermind and training opportunities. You'll truly become the go to expert in your community when it comes to Probate and Estate Settlement Services. Mastery Students will receive:
On-demand 15 hour Probate Mastery Course
Private Facebook community
Certified Probate Expert (certification and marketing designation)
Options to upgrade to ongoing weekly group coaching, a 12 week Probate Mastermind & Live Role Play Sessions
The community that has sprouted from this course will help you work less, earn more, and do great things in your community and your career.
Our Active subscribers can buy through ATL for special pricing not available directly through Probate Mastery.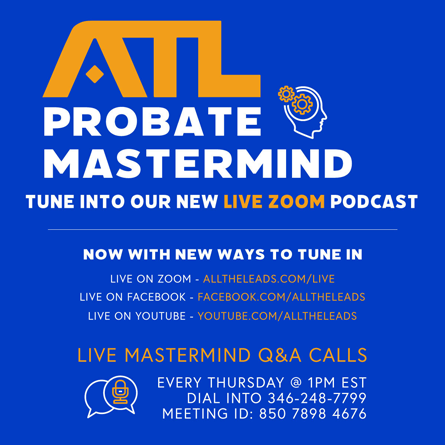 Over
400 videos

full of RELEVANT, REAL information.

In November of 2014, we began our series of weekly Probate Mastermind Conference Calls. These calls are open to anyone – not just our subscribers! We discuss important issues that are of great interest to Real Estate Agents & Brokers, Investors, Wholesalers, Financial Services Professionals, Estate Sale Professionals, Mortgage Professionals and anyone else who is interested in learning more about the opportunities our probate leads provide.
Join us live:
Date: Every Thursday
Time: 1:00 PM (Eastern)
Be A part of the discussion:
Meeting ID: 850 7898 4676
Dial in Number:(346) 248-7799 Participant ID not required
Zoom Link: AllTheLeads.com/live
Or

listen in live: