Let Us Create Your Custom Credibility Website
Your credibility website will be uniquely YOURS.  We have included some special elements designed to dramatically enhance your image to your prospective sellers, buyers and partners. You can choose the colors you prefer and some aspects of the style as well as using your own logo and your specific branding.  We'll use YOUR pictures and content as well.  If you want to go all the way and have a complete site created from scratch, we can do that as well and our team has created thousands of websites for companies around the world.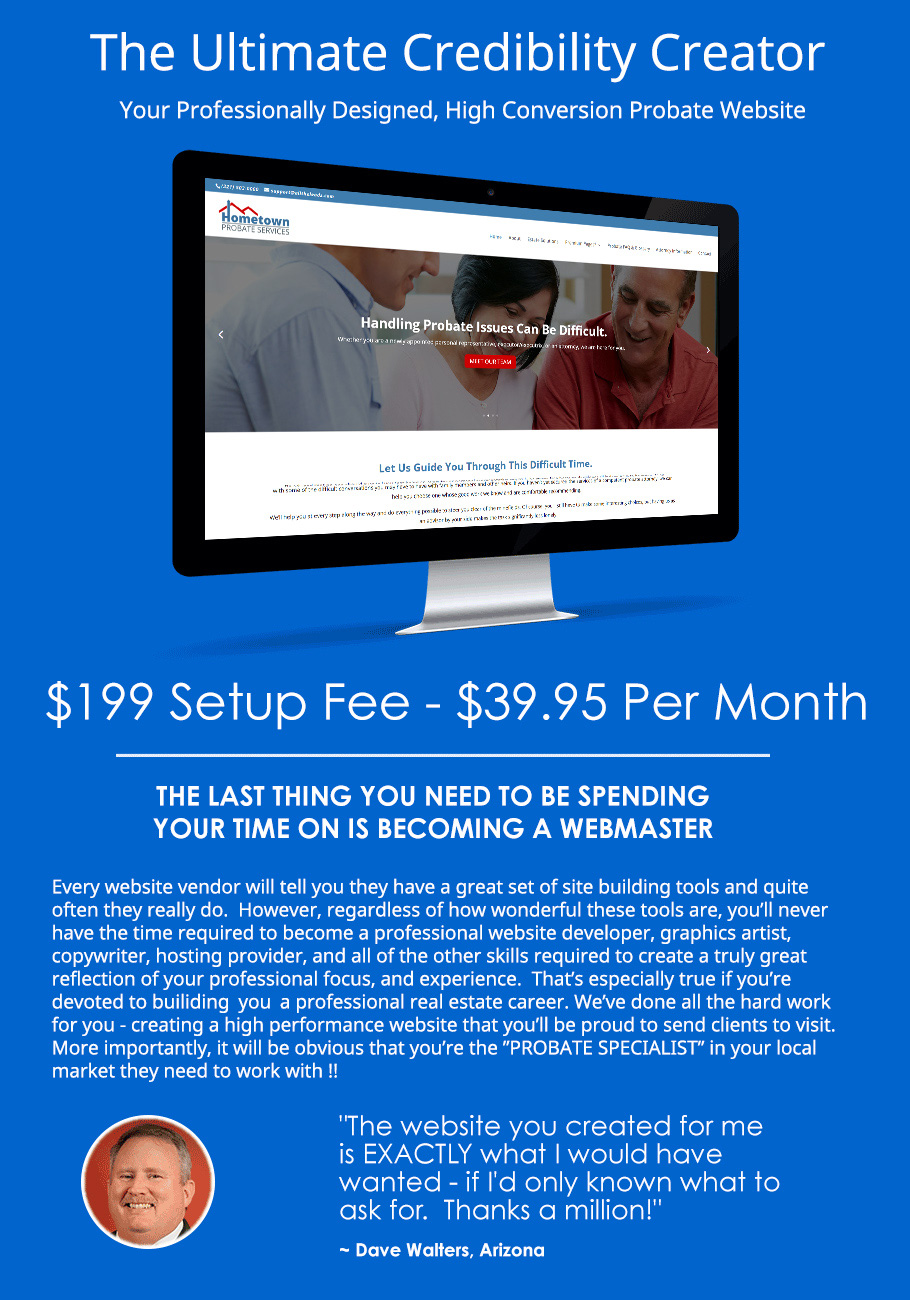 Important Note: You'll need a unique domain name to use for your credibility website. If you need help with any aspect of that process, we'll be glad to assist. Also, assuming you have another website for your regular Real Estate business, we'll create a link to access that website directly from your credibility website and provide you with a link to add to your other website that will link back to your credibility website.
The image below is a sample of what your UNIQUE Credibility Website could look like.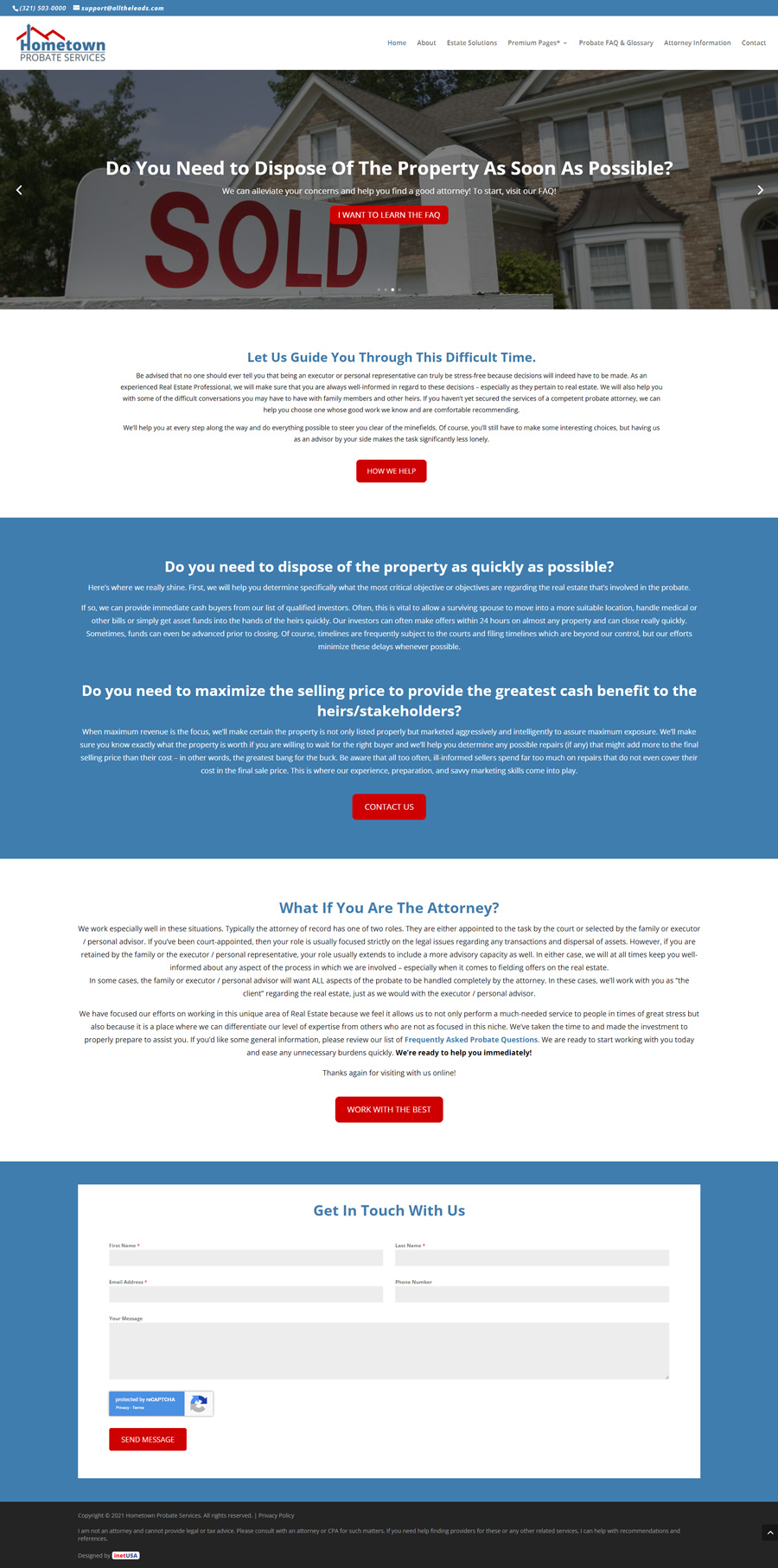 What's Included?
The sections below will show you some of the professionally created pages and content that have been built into your site from day one. These are where we start … then we customize it to meet your needs and desires. It's important to note that if you want to edit your site yourself after we deliver it to you, you have complete control over it. You can make any changes you want without paying us or anyone else to do them. Of course, if you just want us to maintain it and make changes for you, we're always ready to help.
About Us
This page is where you'll start the process of educating your prospects about who you are and what you can do for them – just as you've done for others.  We'll professionally edit (wordsmith) the content you furnish to us to put your very best foot forward at all times.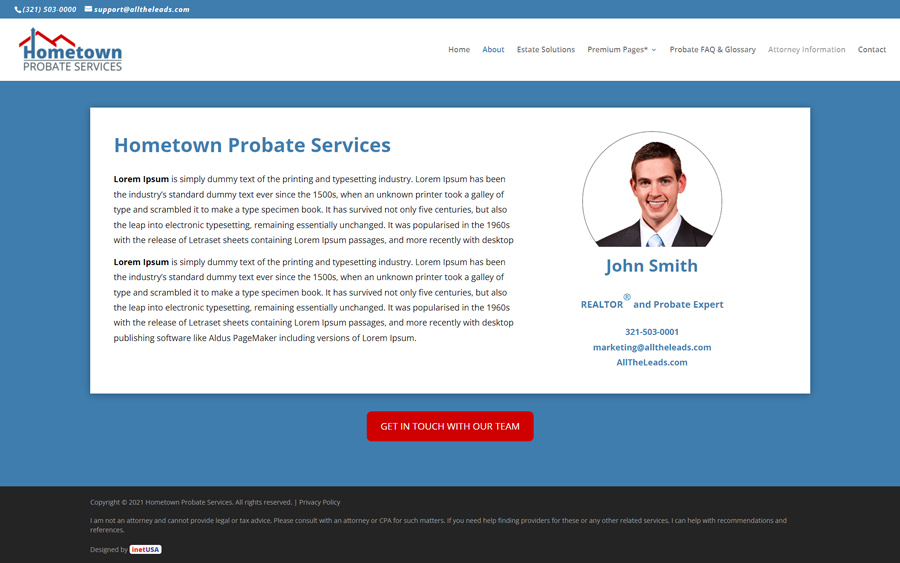 Estate Solutions
One of the things that's important to prospective clients who are dealing with inherited property is that you can help them deal with lots more than the average agent. This page is designed to highlight the additional services your team can provide. Like every other aspect of your website, it will easily be customized to fit your unique capabilities and the services on which you want to focus the attention of your visitors.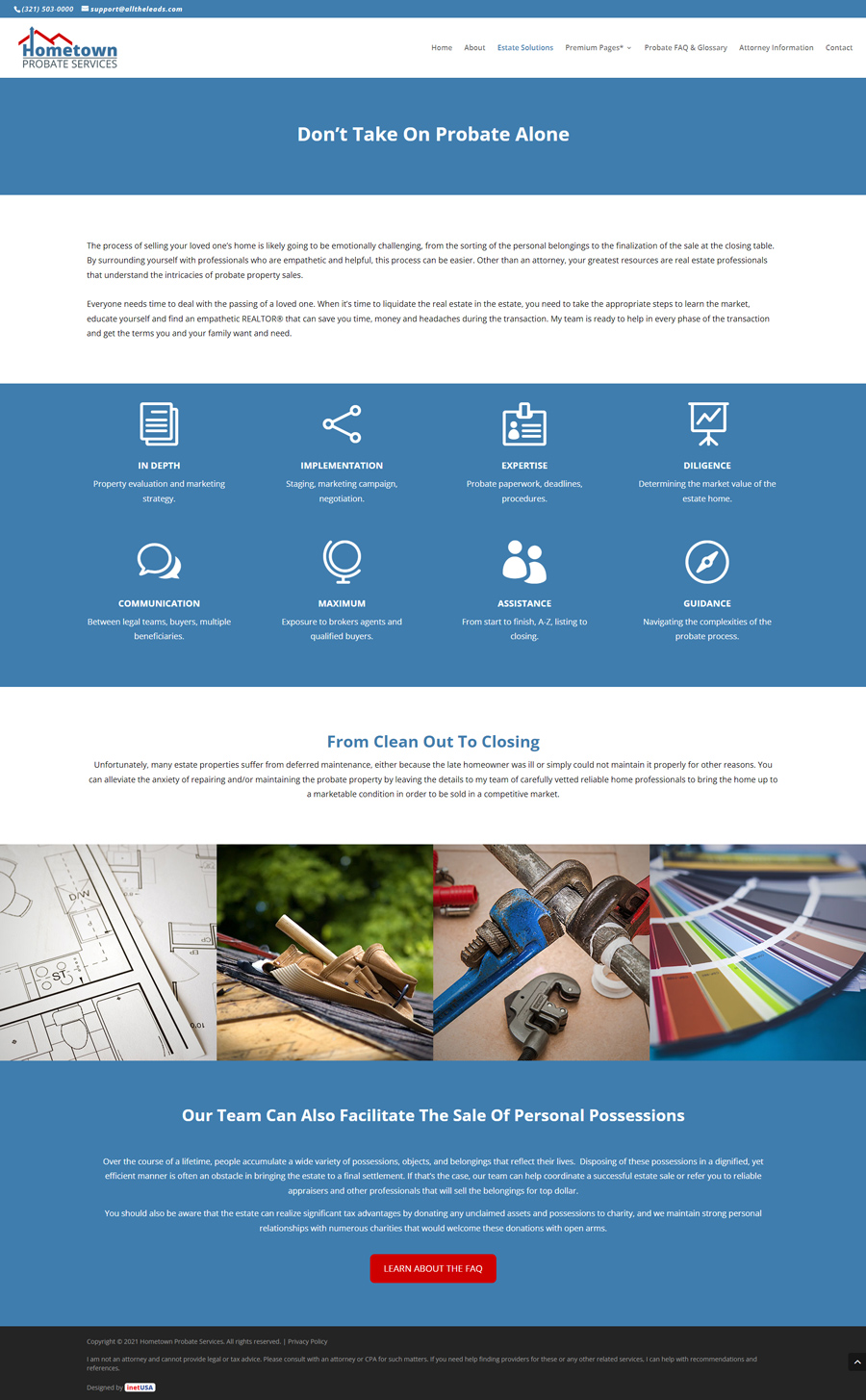 Contact Us / Property Info Form
The "Contact Us" page is specially designed to gather information about the property your sellers are interested in selling as well as providing for visitors who just want to ask a question.  It will gather the information from prospective sellers that you need to do your homework before you respond, allowing  you to demonstrate your expertise, market knowledge and attention to detail from the very start of your relationship.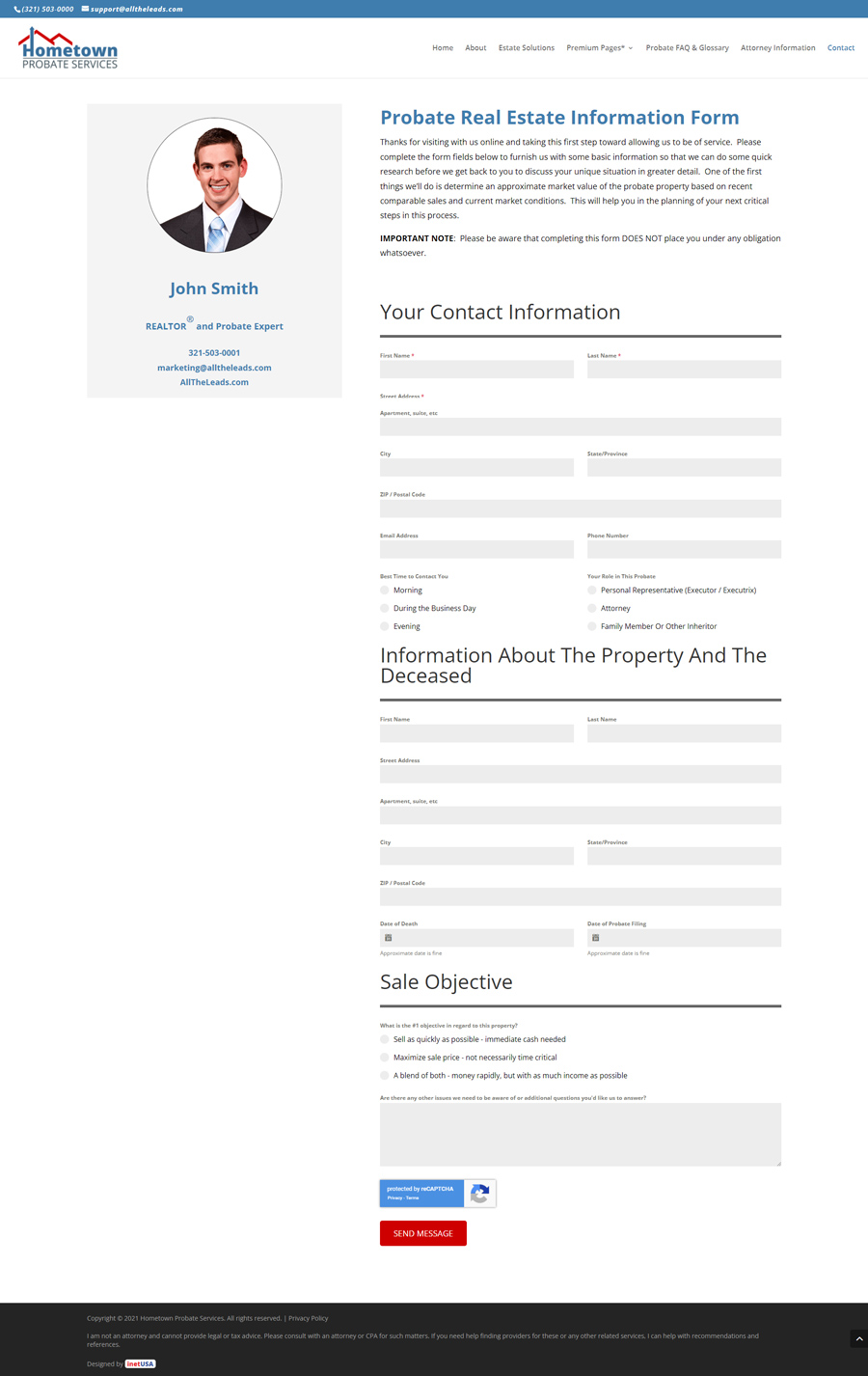 Attorney Information Collector
This feature of your website has a dual purpose.  First, it does specifically what it was initially designed to do – start a dialog and collect info from attorneys who specialize in probate in your local market.  However, it also functions as the landing page for any marketing you may choose to do directly to the attorneys whose info is contained in your monthly leads list. It's specifically designed to very professionally encourage an attorney to join your team and to feel that others have done so previously.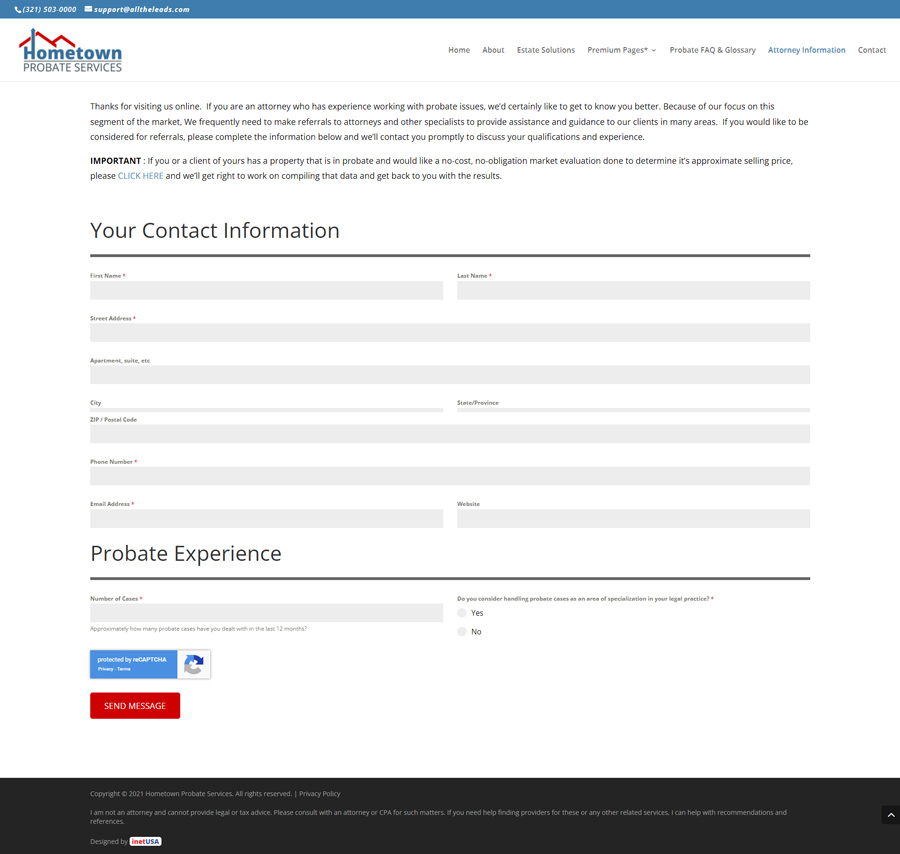 Frequently Asked Questions & Glossary of Terms
This feature shows you've done your homework.  It contains lots of well-researched answers to the most common questions about probate.  It will not only demonstrate your expertise, but it will make sure that your prospects know you take this specialized area VERY seriously.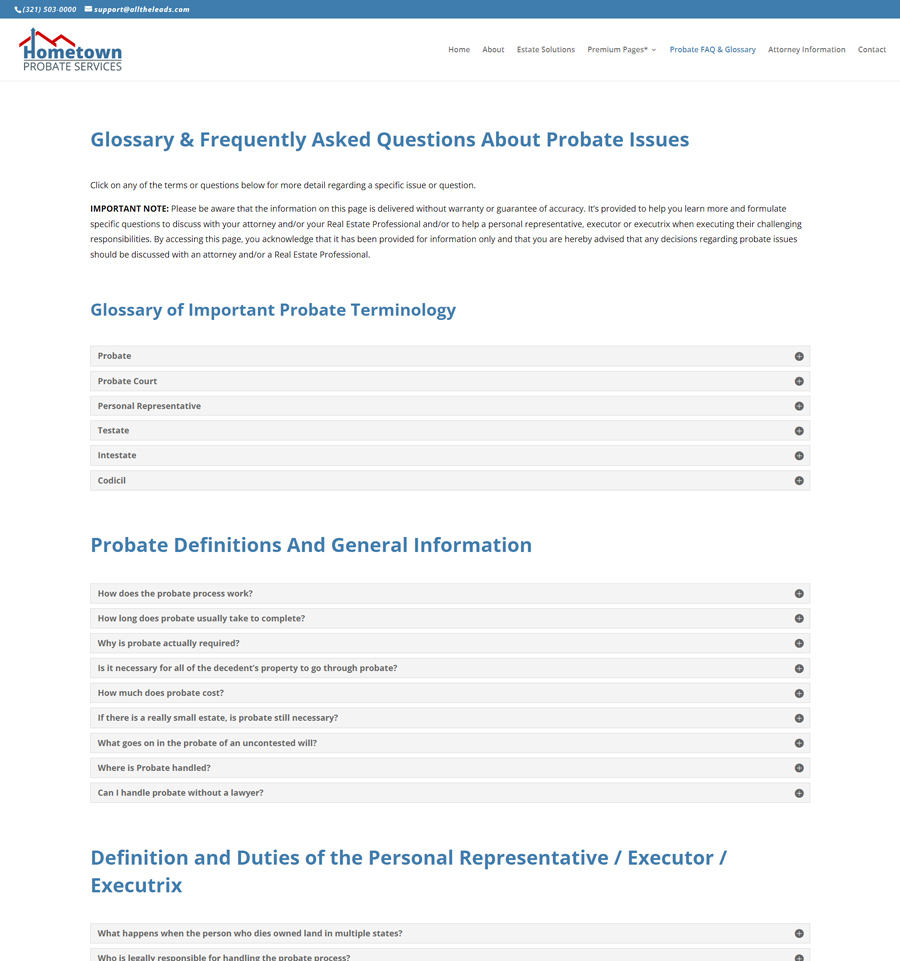 Ultimate Credibility
In today's world, you have to do everything possible to separate yourself from your competition. Your custom Credibility Website is an indispensable part of your arsenal in that effort. We will work closely with you to make sure that your site expresses who you are as well as your skills and dedication to this unique market niche in the best possible way to any website visitor. It's only $199 for the customization we'll do to make it uniquely yours and then only $39.95 a month to continue putting your best foot forward.
Our team is ready to talk with you and explain more about the details regarding your website or any aspect of our program or products. Just click the button below to schedule a time to chat with our team or click the bottom button to begin your order now!