PROBATE
Probate Real Estate holds so much opportunity – we're here to help you find it.
We set out to create a system any real estate agent, broker, investor, and/or wholesaler could use to become the probate expert in their market, and you've found exactly that system today. With All The Leads you'll be able to provide a rewarding experience to the families you help and build a valuable pillar in your business.
IT ALL STARTS WITH

Accurate

,

reliable

data

All The Leads is the best source for probate leads, training, and high-performance marketing. We've gone the extra mile to bring you lead lists with accurate and comprehensive information you won't find elsewhere. We know because we built this system to fill that exact need for ourselves.

We provide EVERY probate filing from your county's courthouse, address validation, up to 5 phone numbers traced for each lead, emails for the personal representative, and attorney information where applicable.

If you want to take it a step further, you can even augment your lead lists with tax assessments, MLS status, equity estimates, mortgage information, and details on how property is deeded.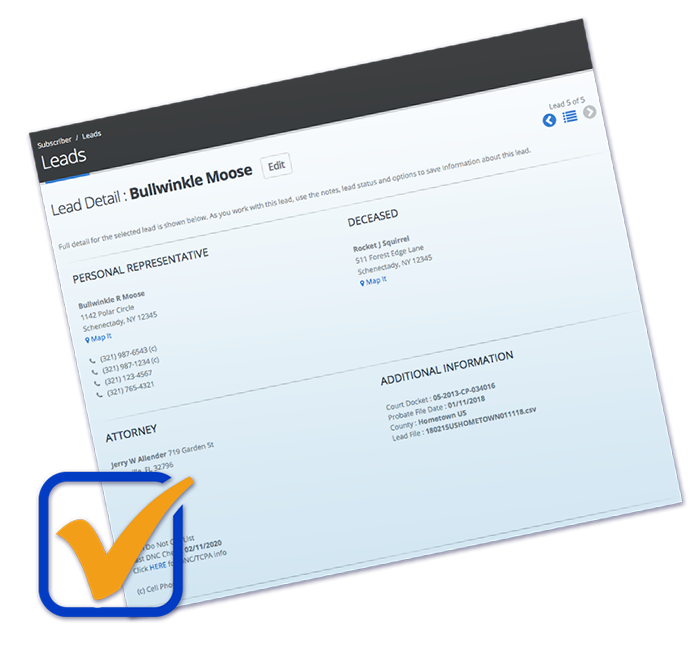 THE ALL THE LEADS PROBATE SYSTEM:
Probate Leads Lists
Our data includes every lead, direct from the courthouse. We found other list providers pulled less records in our test counties, and pre-scrubbed lead lists before delivery. We provide ALL the leads and show you how to find EVERY opportunity.
Phone Numbers
Each lead includes up to 5 phone numbers for each personal representative. We run EVERY phone number we provide to you against multiple DNC (Do Not Call) registries. You can easily export all leads or exclude DNC numbers, all at no additional cost.
ATTORNEY INFORMATION
Attorney information (including phone numbers) is included with your probate leads where applicable. You can automate B2B marketing right from the CRM (Customer Relationship Manager) and export attorney lists for targeted prospecting.
Email Addresses
We provide email addresses for personal representatives, as well as attorneys where applicable. We've also got your back on email marketing strategy so you can increase your open and response rates.
Direct Mail Campaigns
We've done the trial and error for envelopes, copy, postage stamps, frequency, and more, and we packaged it into our set-and-forget direct mail system, Mailbox Motivator.
PROBATE Credibility WEBSITE
Our probate credibility websites demonstrate to your curious prospects that you're the probate expert in their neighborhood. Once you grab a domain name, we can also help you with hosting and redirects. Set yourself apart from the rest.
LEAD MANAGER CRM
Access and manage all of the above in one place. Easily organize your leads communication, deals and marketing efforts. You can also export your leads for use in dialers and other systems.
VIRTUAL ASSISTANT CALLING AGENT
Our ISA program has been created by our Head Coach, Bruce Hill as a labor of love. The approach he took is simple. He hires, trains and monitors the ISAs that the program furnishes to you and the ISAs work directly for you as your contractors, while he handles all the administration, payment, and the care & feeding issues.  In other words, he handles all the hassles while you only work with motivated sellers and buyers. 
Seamless Automation
Automation made simple. Take advantage of "done for you" convenience by activating the Auto-Pilot setting! Each month as you receive your new leads, a mailing order will automatically be generated using your pre-determined settings. Set it & forget it, and be on your way to success.