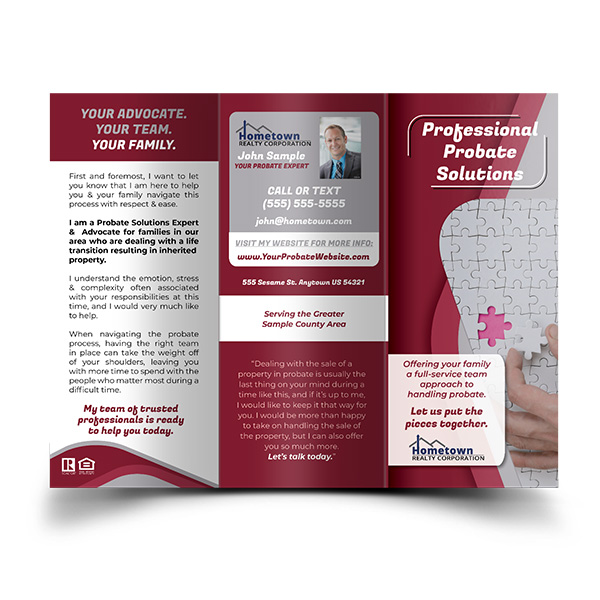 Brochures
For businesses of all sizes, the value of a brochure well outweighs your costs and allows you to reach your clients in a visually interesting way that won't feel like just another ad. In essence, it turns even the most basic information into an effective sales tool!
Easy to Distribute:

 

Brochures can be mailed by themselves, accompany a letter or other promotional mailing, be given to a customer by-hand, be displayed for clients to grab, and more!
Direct Communication with Customers/Prospects:

 

Brochures are an awesome way to speak directly to your audience. They offer more available space to articulate why

 

your customers need your product or service, rather than simply listing your offerings.
Build Trust & Credibility: To put it simply, customers expect a reputable brand to have print material. A well-executed brochure implies reliable credentials, dependable business practices and evidence of experience.
Business Cards
Put your contact information in the hands of your customers in an eye-catching and concise way!
Most think that the increase in digital marketing and online communication has rendered the business card ineffective – but this is far from the truth!
A business card is a path to opportunity. Think of a situation where you encounter a potential client. What do you do? You introduce yourself and begin to tell them about your business. During your conversation, the time will come to exchange your contact information.
A business card saves you time and makes you look professional. You're not stuck searching for a pen to write your phone number or website on a receipt or napkin, and you also give them a sense that this isn't your first rodeo!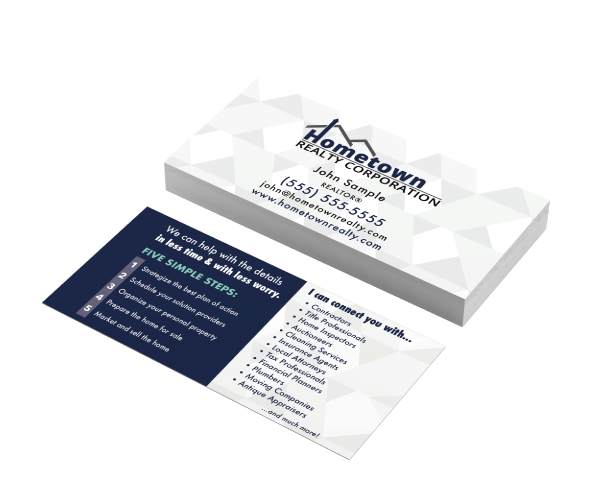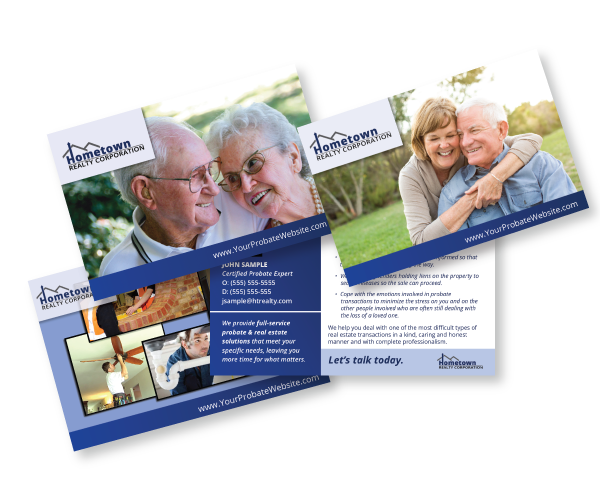 Postcards
Postcards are an affordable yet versatile way to engage your customers & clients. The possible uses are endless!
Whether you're looking to increase sales, get new clients, encourage return business, share news or provide a special offer or promotion, we've got you covered.
Save Time & Increase Impact:

 

Your recipients don't have to open an envelope to view your message, it's immediate!
Simple & Portable:

 

Postcards are easy to take with you, distribute, or display!
Track Results Easily:

 

There are several great ways to make your postcard campaign trackable, including promo codes, special discounts, call-tracking phone numbers, campaign specific URL, or QR codes.
Flyers
Flyers are easy to distribute, post, share, and display. Unlike a brochure that can encompass lots of information into one piece – flyers typically focus more closely on one main idea. For example: a weekend sale, a golf tournament coming up, a new product launch, local farmers market, the specs of that brand new car, etc.
With the use of full-color, impactful graphics & a number of paper stocks to choose from, flyers are effective & easy to share, post, hang up on public boards, pass out in-person, and more.
Whatever your core message is, give it some space to shine!
Your audience should be able to look at the flyer and instantly understand what it's trying to say.
Magnets
Magnets are a great way to keep your contact information in front of your customers day after day. With your logo, contact information and maybe a striking image or graphic – these pieces get placed on fridges, whiteboards, filing cabinets, and more – and leave a lasting impression!
Ideas for your magnets: calendar, helpful tips or reminders, funny or meaningful quotes, beautiful images, recipes, conversion chart, contact information, and more!
High quality, durable magnets with a glossy finish make for an excellent promotional tool. Sell them, distribute them at events, package them in with items you send out, send them via mail – there are many ways to get your magnets into the hands of your audience!