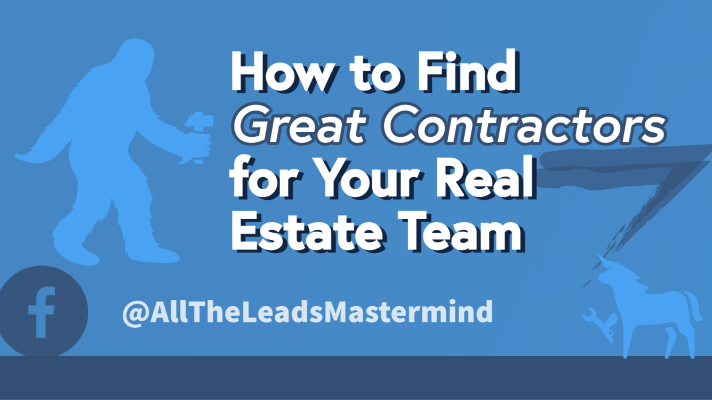 Whether you're a real estate agent, landlord, fix-and-flipper, or property manager, you've probably had that moment where trying to find a good contractor felt like you were trying to find BigFoot.
Unless you get extremely lucky, finding contractors and maintaining working relationships requires a proactive, multi-faceted approach.
I want to get you thinking beyond the usual Craigslist, AngiesList, and blind- trust-falling-into-a-friends'-recommendation strategies that dominate other How-To's on finding a good contractor. So, here are some tips and ideas to help you find your "contractor unicorn," and get them onboard with joining your vendor team!
1. The idea of finding that one perfect contractor is inherently flawed.
Plot Twist: There is no unicorn. Moreover, different projects might be best suited for different contractors.
I've seen my fair share of real estate professionals treat the identity of their go-to contractor like classified information. They might be worried their favorite contractor will get too busy to take their jobs if everybody else starts contracting them, too.
This is misguided. Exclusivity seems desirable, but it can inhibit success for you and your contractor.
If you don't have enough work to provide a contractor month-over-month, they need to work with other clients – and those clients very well may be other real estate agents and investors in your market. If you have too many jobs that need to get done, relying on one contractor will be detrimental to your business.
The purpose of building a team is to enable every teammate to do more together than they can alone, so they can grow their individual businesses faster than they would without the rest of the team.
Stop looking for that one perfect contractor, and certainly don't become that person that tries to keep great contractors from expanding their own business. Understand that having fluid relationships with several contractors can mean more projects get done well and on time, without anyone feeling pressured to burn themselves out or turn down other opportunities to maintain relationships. Reciprocity is a much stronger glue than exclusivity.
2. Try asking everybody else on your vendor team for recommendations.
Ask your agent and investor colleagues.
Ask your inspector.
Ask your electrical guy who they'd recommend for framing.
Ask property management companies who they keep on speed dial.
The benefit of relying on word-of-mouth referrals from colleagues rather than friends who may have hired a handyman for a one-off job are that your colleagues have likely worked with this person more than once and can speak to the reliability, consistency, and quality of their work. Also, a smart and earnest contractor will want to keep a good reputation with the person that referred them. The contractor knows the referral relationship could be damaged if they break commitments or perform low-quality work.
It's possible you might run into a few colleagues here and there that seem reluctant to connect you with their preferred contractors. Take this in stride, and move on to the next.
3. Follow the supply chain to find contractors that are actively working.
This used to be a tip few people had heard before: "'Go to home improvement stores early in the morning to see who is up and ready for action; those are the good guys!"
But even though this has become a commonly-shared tip in the real estate world, why is it such a good tip?
For one, the contractors heading to pick up materials at the start of the business day are actively working, and are experienced enough to know what they need before heading to the job site.
Another benefit of stopping by home improvement stores is the staff can help point you in the direction of quality contractors. Staff members will have an idea of the type, quantity, and quality of work their contractor customers do based on their interactions and purchases at the store.
Some stores take it a step further and have partnership programs with contractors that can enhance the service experience of all parties involved. For example, Home Depot's Contractor's Page promises the following:
"Should you decide a professional installation from a licensed contractor is the way to go, rest assured knowing The Home Depot stands behind all installation work to make sure the project is completed on time the right way. All independent contractors carry the appropriate licenses and insurance for their areas and undergo thorough screening and background checks before they become a contractor affiliated with The Home Depot.

We stand behind their work and provide at minimum a one-year service warranty on all installations. When we choose a specialty or general contractor for your installation, you're in good hands."
In addition to helping you do your due diligence, a program like this can help solidify your client's confidence and motivation towards hiring a contractor. And if the contractor has a membership discount, they might be able to pay those savings forward :).
4. Ask your friends, not just "WHO" but "HOW" and "WHY."
In real estate, we love the idea of our friends recommending us any and every time someone mentions anything about buying, selling, or breathing.
But imagine you're prospecting for listings/acquisitions and someone tells you, "No thanks, my dogsitter's brother-in-law just started selling houses. We don't need any help!"
Your friends might have a truly great recommendation for you; or they might have misguided faith in who they're recommending, a misunderstanding of what you're looking for, or a conscience that compels them to recommend their friends even when they know they might not be the best fit.
Ask your friend how they know the contractor and why they recommend them, then set proper expectations: Their recommendation may or may not be the best fit for what you're looking for and may or may not be who you end up contracting this time around, but you are grateful for their insight.
5. Ask contractors "Is this a job you'd enjoy doing?"
It sounds like I'm suggesting an interview question, but I'm actually suggesting you work this into all of your requests for work on an ongoing basis.
One of the ways an 'exclusive" relationship with a single contractor can come back to bite you in the butt is that your contractor might feel a strong obligation to take any and every job you give them. They might overcommit in terms of time, resources, experience, and/or skills, even if it's with the best intentions, because they want to maintain the relationship they have with you.
Something I've noticed Chad Corbett does consistently – In meetings, in emails, and in situations that require workflow management – is ask variations of questions like:
"Is this something you can do?"
"Is this something you'd like to do?"
"How long do you think something like this would take?"
"Should we outsource/hire additional help for this?"
"Do you know off-hand what this would require, or would it be better to get back to me?"
Such questions prompt people to consider the scope of work in the context of their own schedule and experience, and disrupt their sense of obligation to commit right now just because they don't want to let you down. If the job is right for them, the commitment will be strong; if the job isn't right for them, you've built a stronger relationship by giving them agency in the decision and preventing a possible let-down.
Strive towards clear and deliberate communication with your contractor partners. The results will be great.
Put It Into Practice!
Unless you're a stranger to the All The Leads community and Chad Corbett's core philosophy in Probate Mastery, you know focusing on people and situations is crucial when building rapport with prospective real estate clients. Well, it's just as important when building strong relationships with contractor partners. The contractors you work with, the friends and colleagues that recommend them, the clients who will ultimately choose whether to move forward with home improvement projects or not, and yourself – you're all people crossing paths in a given situation.
Instead of setting out to find a contractor partner like it's an absolute, one-and-done deal, re-imagine it as a dynamic process and commit to being proactive in it.
Go out there and put it into practice!