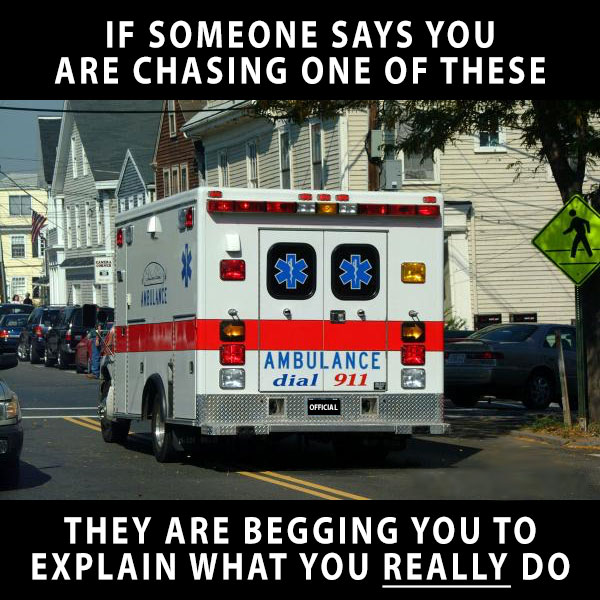 One of the most common concerns we hear from new subscribers to the probate leads offered by All The Leads is the fear that people they contact will accuse them of being ambulance chasers, hearse chasers or worse. Does that really happen? In truth, it's pretty rare, but even when it does, a proper approach on the phone call can usually turn negative emotions into genuine appreciation. It's all a matter of understanding what they need.
Benjamin Franklin once said, "In this world nothing can be said to be certain, except death and taxes." Despite that, many Americans dread April 15th and fail to plan for it until it's too late and unfortunately, even less of us plan effectively for what happens after our time on earth is up. Sometimes a will has been created and an executor or executrix has been named before someone passes away, but that's usually about the extent of any planning. Most often, that personal representative is saddled with decisions they must make alone that are quite hard to make without direct advice from the person who has passed on.
All too often, other family members have strong opinions about what needs to be done with the estate and in most cases, where real estate is involved, the person who died also left a home filled with a lifetime accumulation of possessions – many with strong sentimental value.
There's also the pressure of time. Usually the person who's been appointed as the personal representative was seen by the deceased as the one with the best ability to make decisions and typically, that person is working a full-time job. Having the time to deal with the many challenges of probate is often a very critical problem and almost every newly minted personal representative usually takes on that responsibility with absolutely no experience whatsoever and precious little available time to devote to the task.
They are constantly aware of the ticking clock and the stressful pressure to get the estate settled quickly and get the monkey off their back. Sometimes that clock is actually a timer, meaning that the estate has to be settled by a certain date to provide funds for something specific like medical care, housing for a surviving spouse or other family member, or a myriad of other time-sensitive deadlines.
Last, but certainly not least, in addition to the newly shouldered responsibility of being a personal representative, they may also be deeply mourning the death of the person who just appointed them as the most important person on earth to their remaining interests.
That's certainly not a great way to begin each day, but every personal representative wakes up with this stress and added pressure every morning.
Then, guess what? Their phone rings and who's calling? … IT'S YOU!
As you know, you only get one chance to make a first impression, and there's seldom a situation where the first few moments are more important. If you start off the conversation with an immediate inquiry about "listing their grandfather's house", you will be quite deserving of being called an ambulance or hearse chaser or worse.
However, if you're able to properly tell your story and can make it clear that you can truly be of great assistance in many ways during these troubled times, you will have just taken all the challenges described above and offered to share that burden. Now, because you've done your job properly, the fledgling personal representative no longer feels alone. He or she has a trusted ally who they feel can help ease the journey.
While that sounds pretty simple, this type of sensitive communication is somewhat of an art. Fortunately, in this case, you are already an accomplished artist, but you just may not realize it. Here's why. Think back to the last time you reached out to help someone in a time of emotional need. Maybe it was a family member or a friend. Maybe they just needed a helping hand with a task or maybe you were comforting them in some way. That was something that probably came rather naturally. You may have begun with a hug or a pat on the back or just by being there. You knew they needed you and you stepped up. That's all it takes to get past the initial resistance.
In this case, that's the attitude you need to bring to the call, but it's even easier for you because we've already prepared you by suggesting many of the ways you can offer to assist that struggling personal representative, such as:
(1) If desired, you can handle any personal property in need of removal: This is often the number one stumbling block in an estate sale. A home filled with personal possessions is difficult to deal with. They are seen as the things the decedent used and cared about every day and it's hard to part with such things. You can make this easy. You can encourage the family to take anything they want to hold onto or have been granted via the will. After that has been done, your Estate Sale Partners will handle everything else. They will sell what they can and donate the rest. They will collect a fair commission and the Estate can get the proceeds and also any donation tax credits.
(2) You can recommend any necessary repairs/improvements: Your recommended Contractors can do any type of work from minor repairs to full renovations. You can explain that investing in the right repairs/improvements will allow the estate to sell for the highest possible price and often in the shortest amount of time, but don't forget to mention that it can also be sold just as it is.
(3) You can obviously list & sell the property with your excellent marketing skills on the open market: Explain that when you meet at the property to review their options, you'll lay out your marketing plan and compensation structure in detail. It's a great time to explain that you don't ever make any money until their objectives have been reached.
(4) If necessary, you can provide investors to make cash offers quickly: If their circumstances call for a "quick sale", investors will be willing to purchase the property in "as is" condition with or without the remaining personal property. They will typically pay all of the closing costs and close the transaction based on the personal representative's desired timeline. Also, because it's a direct sale, the estate will keep the 6%-8% off the top that would be your commission and as a bonus, if they decide to list the house, the cash offer will remain on the table as a fallback.
(5) You can help with discussions with other stakeholders and attorneys: One of the biggest problems in probate management, especially with multiple people with an interest in the results of probate, is communication. You can be part of these stakeholder discussions and often act as a buffer to smooth possible points of contention. You can offer to send bi-weekly updates to all parties to make sure everyone knows exactly what's happening. Also, you can be part of their meetings with attorneys to discuss any legal issues. Again, you're helping shoulder the burden.
So … the next time you get concerned about being called an ambulance or hearse chaser, remember this: What you're really offering is to be a friend in deed to a new friend in need. If you start with that approach, the rest will be simple.
Here's a possible ice-breaker script that will be very hard for your potential client to perceive negatively.
"Hello, Sarah. I'm Steve Wilson and I reach out to newly appointed personal representatives for probates in our local area. I have a team of dedicated professionals that's been created specifically to help people just like you deal with some of the challenges you'll be facing. Is there a house that needs to be sold as part of the estate?"
At that point, if you've spoken confidently and truly believe you are offering to help, it will have been communicated in your voice and you'll be very unlikely to get accused of anything inappropriate and you can begin to explain the value you can offer. But, if you do meet negativity and resistance, there's an easy way to acknowledge that you understand why they are reacting that way and then defuse the problem. Simply and calmly say:
"Sarah, it's obvious that you are deeply affected by this situation and I know you don't know me or you'd never think that about me, but if you'll just give me another 60 seconds, I promise that you'll see that I'm definitely a person who can genuinely help you and that is all I'm trying to do. Can I ask you for just another 60 seconds?"
Then, in your allotted 60 seconds, explain yourself thoroughly and if you do it well, you've already succeeded. If not and they are still not interested, you tried hard and it's time to move on to then next person on your list who thankfully will likely be quite appreciative of what you have to say.
Just remember that you are not an ambulance or hearse chaser. You are a dedicated real estate professional who has decided to invest significant time and money to specialize in EXACTLY what they need to make their burden easier.
That is easy to explain. ONWARD!