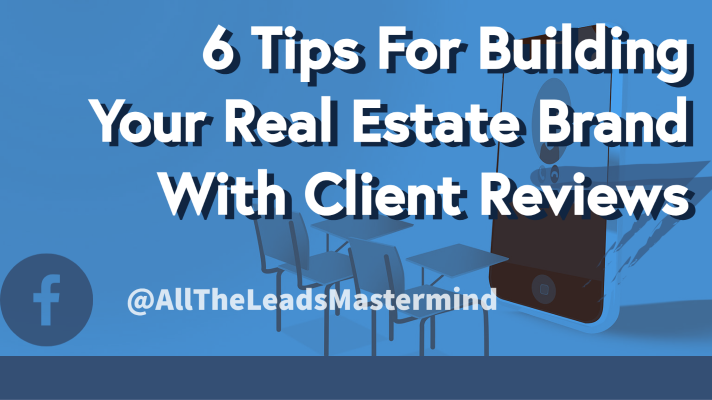 It sounds simple – Do a great job, get great reviews, and get more sellers and buyers to hire you because you're so awesome. But so many people fail to capture reviews at all, let alone capture and utilize them well. Let's run through a refresher on why reviews are so significant for your pipeline, and then run through some of the best tips for asking for reviews and getting them out there for the world to see.

Boosting Brand Visibility and Reputation Through Reviews
If you're not getting reviews online, you're missing out on a huge opportunity to boost your brand visibility and credibility. Online reviews are a major asset for real estate businesses when it comes to local search rankings and click-throughs. In fact, consumers trust these reviews as much as they trust opinions from friends! According to Inc.com,
"Research shows that 91 percent of people regularly or occasionally read online reviews, and 84 percent trust online reviews as much as a personal recommendation. And they make that decision quickly: 68 percent form an opinion after reading between one and six online reviews."
Online reviews can be found on search engines, local reviews sites and services, blogs, and other website content. As people increasingly share their opinions on products and services and engage with brands through social posts, social media platforms are bringing social-word-of-mouth to the online stage: Tweets, Facebook statuses, and other types of social posts have become vehicles for powerful, bite-size reviews that feel candid and authentic.
It's also not unlikely that real estate prospects who are considering your services will search your name + 'reviews' to see how you stack up. Reading about the real-life experiences of past clients can be a powerful influence to the purchasing decision that a prospective customer is thinking about. At this point, a review is not helping you get discovered so much as it's helping you get chosen.
Tips for Capturing and Utilizing Client Reviews in Your Real Estate Marketing
Capturing reviews from happy clients will give you evergreen content to use in your real estate marketing. Here are some tips for capturing reviews:
Capture non-transactional satisfaction surveys: Paying clients and closed transactions aren't your only opportunity to capture reviews. You can ask people to rate their experience consulting with someone on your team, or to kindly leave a review if they found informational content valuable. Send out invitations to your mailing list to ask for their feedback, and send follow-ups to potential clients after consultations. This will help you get more reviews and show that you're someone worth knowing even before a purchase is made. Think of all the potential clients lurking search engines, browsing reviews for businesses, that haven't entered your funnel yet because they aren't ready to sell or buy right now; reviews that cover non-transactional value will motivate these readers to at least opt-in to stay in touch via mailing list or a social platform follow!
Capture reviews on your website: Your website is where you have the most control over your content, and you should consider creating a section dedicated to testimonials or sharing the experiences of past customers. This is an opportunity to host user-generated content on your sites that search engines will love. And don't forget to provide an area where users can submit reviews directly on your own pages, and make sure to use that schema markup to further enhance the page. Whether you build this into your site directly or embed one of the many third-party review solutions, you'll never know just how many reviews you might be able to get if you don't ask.
Capture reviews on third-party sites: Yelp, AngiesList, Yahoo, Bing Local, Google My Business, and any number of industry-specific review sites like Zillow are potential platforms for capturing online reviews from your real estate clients. These platforms are typically oriented towards post-transactional reviews.
Capture transactional reviews right away, offline or online: It's pretty easy for anyone to hit a like button, leave a star rating, or even leave a short sentence or two recommending you and your business. However, bigger and detailed reviews relating to big transactions and longer-term relationships are easy to put off and forget about. When you and a client reach a goal, hit major milestones, and finish transactions, you should always try to capture a snapshot of the excitement in that moment.
Find what works for your client: Many people are camera shy or get writer's block, even though they really want to give you an awesome review! Try setting expectations earlier in your relationship with a client – let them know their feedback on the process and results can help you improve your service and ability to help people in the future. Encourage your client not to worry about formality, and take this advice yourself as well. Try to capture statements, quotes, candid videos, and before and after photos throughout the journey to use, reuse, and incorporate in formalized testimonials in the future. Capturing candid moments is the important part – all the bells and whistles can be added later!
Keep a spreadsheet: One of the biggest obstacles to creating powerful content from reviews is that the pieces get lost all over the place. Create a simple spreadsheet to help keep track of all of your reviews and testimonials, existing or pending. If you will be working with media, create fields to indicate whether you have ratings, text, pictures, and/or videos from a given person. Create a folder to store all text and media files in one place. When you're ready to work on a project, you'll have all the assets you need in one place.
Tip: Easily capture reviews for multiple platforms with EmbedSocial. We've used this program with ease to capture reviews and feature them on our website with dynamically updating widgets! It's a low-maintenance and easy to use way to aggregate reviews where you want them, and the review process is simple and easy for your clients.
Next Steps For Your Real Estate Marketing:
I know it's normal to look for a conclusion at the end of an article – But I'm counting on you to get out there and block off some time this week to brainstorm your own strategy for capturing reviews. Do you have a sphere of influence already? Do you have recent clients you've put off asking? Are you new to the game, but have colleagues, vendors, mentors, or peers that can offer their perspective on your character, skillset, and drive? Where will you host and display your reviews? Will you produce digital and/or print content with them? How will you keep yourself accountable and organized as you hash out your client reviews marketing strategy? I promise these small and simple questions will get you moving in the right direction!
Highlights from Live Mastermind Q&A about capturing testimonials:
Yolanda is helping someone find financial assistance for medical care. There are no real estate needs, but she's using this as an opportunity to help someone and network with new professionals in the area. Can this be captured as a testimonial? Yes, and capturing the testimonial of someone you helped without making any money out of it can be extremely powerful for building trust, value, and credibility in future marketing. Bruce gives one key piece of advice here.
Devin Doherty has a listing – beachfront property – set to close. The sellers are extremely happy, and he initially met them via attorney referral, who is equally happy with Devin's help. He wants to leverage this as a testimonial to win relationships with attorneys and seller prospects. Chad lays out a roadmap for doing this.
Rosie shares an update on her prospecting results. She is blocking off productive call time and building meaningful relationships. Instead of trying to sell her prospects, she's qualifying her prospects to see who is the best fit for a stellar testimonial when all is said and done. Rosie landed 3 solid opportunities from cold calling this week and is starting to get inbound/return inquiries from her marketing efforts.
Rebel jumps on the call to share a sale she just closed. The lead responded to the first probate marketing letter she received via All The Leads' Direct Mail Service. Chad and Rebel discuss how Rebel put the deal together and had a cash conversion cycle of less than 60 days. Chad and Rebel discuss how to capture an awesome testimonial from her client.