INDUSTRY-LEADING EDUCATION,
RESOURCES & PROFESSIONAL COACHING.
All The Leads offers training to help you increase efficiency and profitability regardless of whether you're just getting started or
have an established team/brokerage. Our training programs are designed to inspire you and show you exactly how to
implement our proven strategies and systems, and also how to customize them to fit your business goals.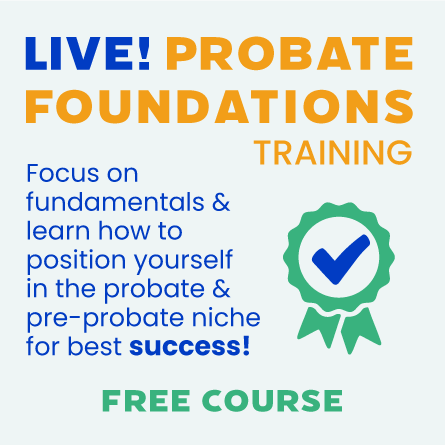 Creating a foundation for success in your Probate niche comes down to 3 basic principles!
Build a fully-engaged probate team that effectively supports your business
Create automated marketing campaigns that attract & engage
Prospect with confidence, using proven dialogue & scripted techniques
Probate Foundations is a LIVE 2-part course hosted each month by Bruce Hill – ATL's Real Estate Strategy Coach. This course is designed to eliminate the noise, keep you focused on the fundamentals, and ensure that you implement the proven strategies to achieve success!
The sooner you master the basics the faster you can shorten the learning curve and make yourself more effective when you fully immerse yourself in the Probate niche!
This course is
FREE

for All The Lead's subscribers!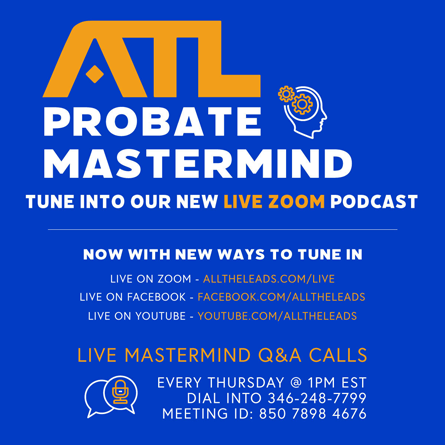 Over
400 videos

full of RELEVANT, REAL information.

In November of 2014, we began our series of weekly Probate Mastermind Conference Calls. These calls are open to anyone – not just our subscribers! We discuss important issues that are of great interest to Real Estate Agents & Brokers, Investors, Wholesalers, Financial Services Professionals, Estate Sale Professionals, Mortgage Professionals and anyone else who is interested in learning more about the opportunities our probate leads provide.
Join us live:
Date: Every Thursday
Time: 1:00 PM (Eastern)
Phone Number: (667) 770-1523
Conference Code: 6562932#
To Ask Question: Press *6 to enter queue then press 1