Master the Probate Niche through Three
On-Demand Sessions.
Probate Mastery is currently available in three, digital on-demand sessions:
Session 1 – Understanding Probate
What to Expect from Probate Mastery

Let's Look at the Numbers

When is Probate Not Required?

Common Misconceptions in Probate

Who is Involved in Probate?

Understanding Your Local Probate Process
Session 2 – Developing Your Probate Strategy
Why Chose Probate as a Niche?

Understanding Your Customer

Building Your Probate Vendor Team

Marketing to the Personal Representative

Setting Proper Expectations

Delegating Tasks To Your Team

Building Your Referral System
Session 3 – Developing Your Sales & Service Process
Using Tactical Empathy to Understand the Personal Representative

Developing Your Probate Unique Selling Proposition

Deconstructing the Initial Conversation

Common Objections Role Play and Break Down

The Appointment – Bringing it all Together
Course Wrap Up
CPE Certificate Order & Exit Survey

Get Access to Weekly Group Coaching Calls
Certified Probate Expert (CPE)© Certification
Upon completion of Probate Mastery you will be issued a certificate and web badge as a Certified Probate Expert©, complete with digital logos for your marketing material and a signed certificate for your office wall. You'll also be added to an exclusive network of Certified Probate Experts for continued support, networking, and learning.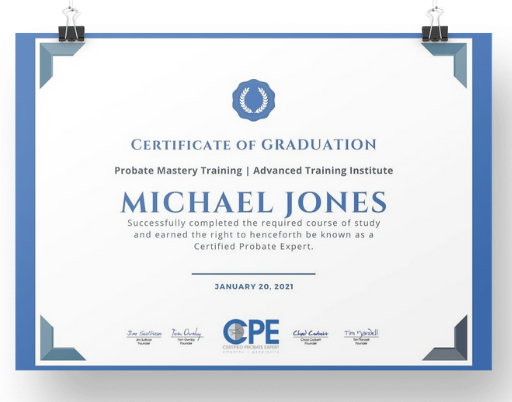 "The common denominator to success among our clients is confidence.  I believe that confidence is the direct result of a strong WHY backed by specialized knowledge.  It just so happens that is exactly what we teach."

– Chad Corbett, Co-Founder/Trainer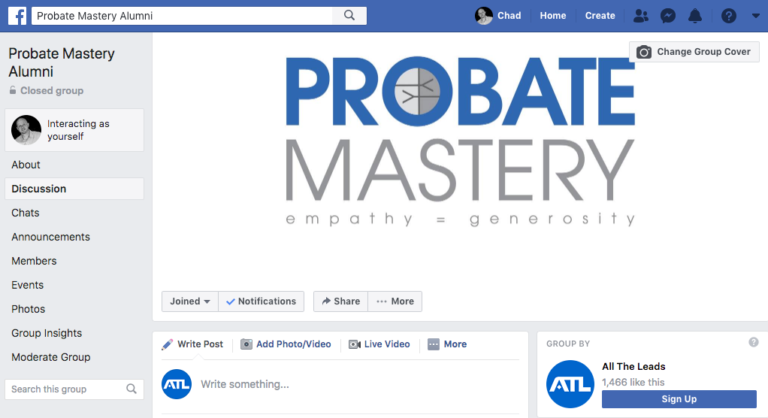 *This is a closed group, in order to be a member you must have completed Probate Mastery and you must answer the questions.