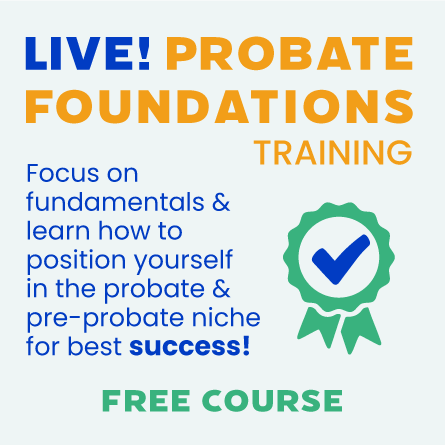 Probate Foundations
Every other Wednesday at 12:00pm – 2:00pm EST – FREE
If you are exploring the idea of building a probate niche in your real estate business, this is a great place to start. In this free course, you'll learn how to create a foundation for success, using 3 core business principles. 
You'll discover how to create compelling conversations that uncover hidden real estate opportunities in Probate
You'll learn how to build a fully-engaged probate team that properly and effectively supports your business
You'll see the tricks that top agents use to create a marketing system that attracts and engages motivated sellers
Probate Foundations is a 2 hour breakdown that will help you build a foundation and achieve quick wins in your Probate business. hosted each month by Probate Mastery's Bruce Hill.  This course is designed to eliminate the noise, keep you focused on the foundational elements of your business, and ensure that you implement the basic proven strategies that have led to many Millions of Dollars of business in the Probate niche.
The sooner you master the basics the faster you can shorten the learning curve and make yourself more effective when you fully immerse yourself in the Probate space. Register for the next Live Probate Foundations Course Here.