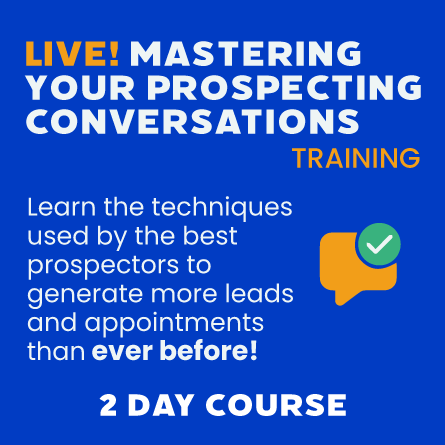 Mastering Your Prospecting Conversations
Every 3rd Wednesday & Thursday of the month at 2:00pm – 4:30pm EST
$149 for subscribers and $249 for non-subscribers
What To Say & How To Say It
Let's face it – prospecting is no easy task. Yet, history has proven that prospectors make far more money than non-prospectors. If you want to succeed and succeed big in business, you need to master your prospecting and conversation approach.
In this two day class, you will learn the techniques used by the best prospectors to generate more leads and appointments than ever before. The class will expand on advanced techniques used to open your conversations, keep control of the direction of your calls, and have prospects excited to meet with you.
Come prepared for more than just a lecture! This class will be a mixture of education and practical implementation through role play.
Class is taught every month on the third Wednesday of the month and the following day (Thursday).
Those who register for the class are welcome to attend up to 3 times.