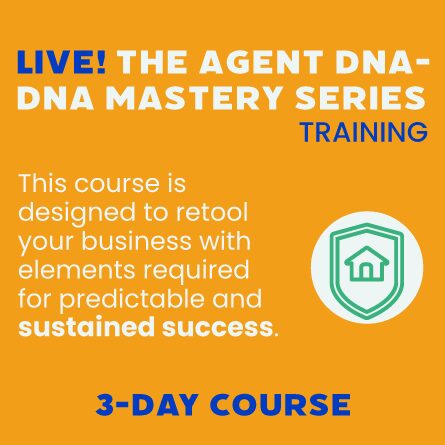 DNA Mastery Series Day 3
Every 3 months on the 4th Monday, Tuesday, Wednesday of the month at 2:00pm – 5:30pm starting on September 26th. – $299 for ATL subs and $499
This course is a 3 day (9 hour course) designed to retool your business with elements required for predictable and sustained success. Whether you are new and looking for the right business foundation or experienced and looking for a redesign before reentering growth mode, this series will get you where you need to be.
There are 5 fundamental elements of any successful real estate business. Most real estate professionals either struggle without a plan around these elements or accidentally stumble into success, only to lose it later. Perfecting your plan around these fundamental elements is vital.
If you have not taken "The Agent DNA – DNA Foundations", please take that FREE class as a prerequisite before signing up for "The Agent DNA – DNA Mastery Series".