Probate Expert
Training Services
INDUSTRY-LEADING EDUCATION,
RESOURCES & PROFESSIONAL COACHING.
All The Leads offers training to help you increase efficiency and profitability regardless of whether you're just getting started or
have an established team/brokerage. Our training programs are designed to inspire you and show you exactly how to
implement our proven strategies and systems, and also how to customize them to fit your business goals.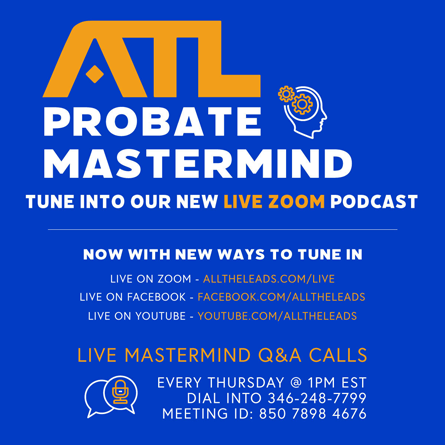 Over
400 videos

full of RELEVANT, REAL information.

In November of 2014, we began our series of weekly Probate Mastermind Conference Calls. These calls are open to anyone – not just our subscribers! We discuss important issues that are of great interest to Real Estate Agents & Brokers, Investors, Wholesalers, Financial Services Professionals, Estate Sale Professionals, Mortgage Professionals and anyone else who is interested in learning more about the opportunities our probate leads provide.
Join us live:
Date: Every Thursday
Time: 1:00 PM (Eastern)
Be A part of the discussion:
Meeting ID: 850 7898 4676
Dial in Number:(346) 248-7799 Participant ID not required
Zoom Link: AllTheLeads.com/live
Or

listen in live: